You know what time it is... time for another fun MDT! This one is Kanani... my all-time favorite doll! (No offense Liz and Julie.)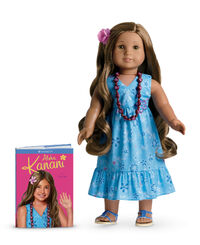 I love Kanani! (Obviously, I have her!) She is such a great doll, so unique. Her books are good, too, I have both! I TOTALLY recommend her! Even though this isn't a review... But let's just say that I really like her and if I didn't have her, I'd want to get her.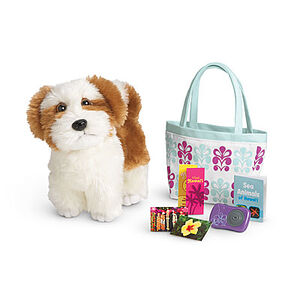 These are nice, I like them. Barksee is cute and I like the camera a lot. But, a problem I have with this is a lot of the things are paper, and I can make them myself... eek. It's still nice, though.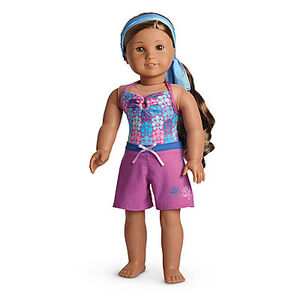 I like this outfit. I love the colors in Kanani's collection, they're my favorite colors. I like how this comes with the bandanna thing, it looks great in Kanani's hair. I like the ring on the front of the bathing suit, it's a nice detail.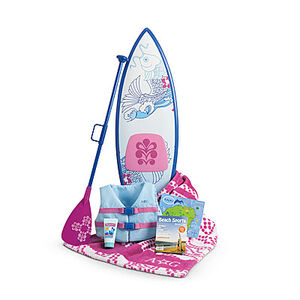 AG was so creative when they made this... it's so cool! The design on the paddle board is phenomenal... I love it! I also really like the life jacket... it's such a cool addition! The map is a cool thing to have, too. And the dolls definitely need the sunscreen- don't need a sun-burnt doll! (Haha!)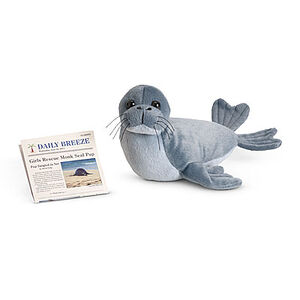 Awww... this is a great thing to have in Kanani's collection! It goes with her book, and having the newspaper with it was fun. I personally wouldn't buy this, it's just a stuffed animal, but it's pretty cute.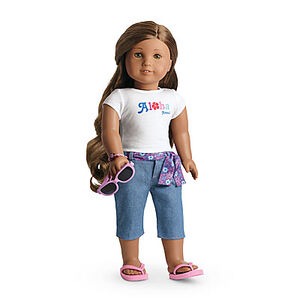 I love this outfit! it is very casual, but cute! I absolutely love the belt! I wish I had gotten this when it was out. The only thing I don't understand about this outfit is the capris. It's HOT in Hawaii, AG!
Ooo... love it! This was such a cool thing to include for Kanani, and there are so many things you can do with it. The only problem is the PRICE... it was more than the doll. Now that's a problem.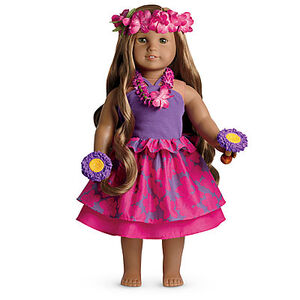 SO CUTE!!! Oh my gosh, Kanani looks so adorable in this, I love it! I think it totally shows her Hawaiian heritage.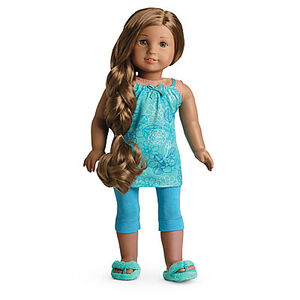 Yes, I love these too! My favorite color (again!). The slippers looks so fuzzy and I like the tank top/tunic idea. I know AG likes to make tunic-like PJ's, and I think they're pretty interesting. (I just wouldn't wear pajamas like that.)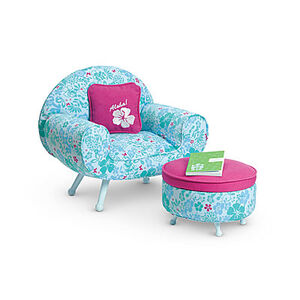 I really like this! The chair looks so comfy... it's also so Hawaiian- ish! (Yep, I make up words.) The ottoman was a very nice accessory to this set, and I think it included storage.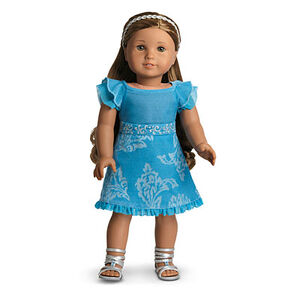 I LOVE LOVE LOVE LOVE LOVE THIS!!!!! This is my absolute favorite outfit in Kanani's collection, I wish I had this! The dress is the perfect color (haha), the shoes are very fancy and beautiful, and the headband... I love it! This outfit is so wonderful.... no words can express how much I love this. (Well, they can, but... you get what I mean.)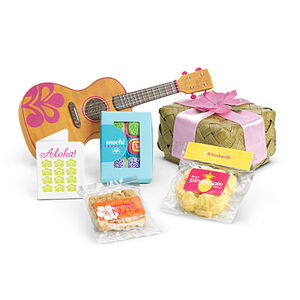 Hmmm.. not sure if I like this. Kanani never played ukulele in the books, and other than that, there's only food and a box in this set. Kind of bad for $34...
Well, how'd you like today's MDT? I had fun making it, instead of criticizing every single thing like I did in
the last MDT I did (McKenna)
.
What things do you agree with me about? Disagree?
Happy Blogging,
Marisa
P.S. If you didn't see in my last post, I have 13 followers now! I need 7 more before Christmas! If you want to know about this, see my
20 Followers Challenge
that is going on now.